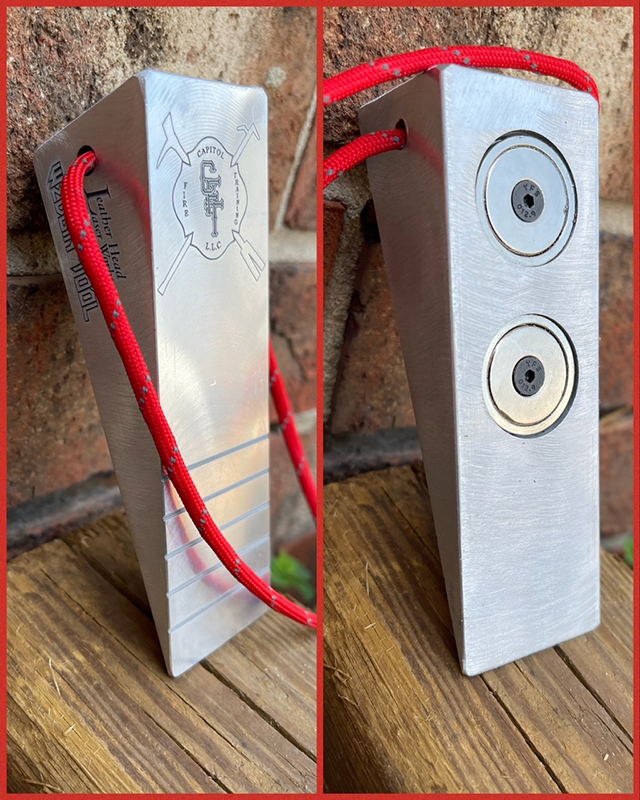 "The Lieu" Magnetic Force Wedge "CFT"
In conjunction with Wedgin' Tool & Leatherhead Laserworks, Capitol Fire Training brings "The Lieu" Forcible Entry Wedge. This wedge is designed by Wedgin' Tool to be added to your "Boss's Bar" or your "Irons" position. The forcible entry wedge can be used to help obtain the initial gap in your forcible entry tactics, a progress capture after your gap, and your wedge to keep doors in the open position. The wedge is magnetic that allows it to be held onto fire service tools without falling off, and also holds well to metal frames and metal doors.  

Product Description:
-Manufactured by Wedgin Tool (USA)
-Made from T6061 Aluminum Stock
-Measurements: 5" long X 1.5" X 1.5"; 10oz
-Drilled hole for lanyard or paracord
-Machine grooved lines for progress capture
-Counter sunk magnets (30lbs of magnetic force)
-Magnets secured with Hex Head Machine Screws
(Note: Magnets are countersunk into the wedge with machine head screws that keep the magnets from falling out during high heat conditions. Magnets may chip or crack after use, but will never become demagnetized).