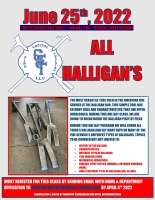 Ridgeley Volunteer Fire Department
67 Potomac St, Ridgeley, WV 26753
The Halligan bar is the fire services' most versatile tool. We literally use this tool for absolutely everything. The fire service has struggled over the years explaining the history, the mechanical advantages, and using the tool to gain leverage. Because of this, we saw the need to design a class to hone firefighter's skills using the Halligan. This class is a combined lecture and hands on program that allows students to use nothing but a Halligan. During this program, students will get a lecture that breaks down mechanical advantages in "simplest form", and describes options for gaining more leverage on those hard to force doors. Students will get hands on "reps" forcing entry on inward and outward swinging doors, as well as defeating locks and other challenging scenarios...ALL USING HALLIGAN'S. This class is guaranteed to break down the Halligan piece by piece.  
| | |
| --- | --- |
| Event Date | 06-25-2022 9:00 am |
| Event End Date | 06-25-2022 3:00 pm |
| Capacity | 17 |
| Registered | 12 |
| Available Place | 5 |
| Individual Price | $85.00 |